Maps and Directions
Sales Hours
Monday - Friday
8:30am - 8:00pm
Saturday
9:00am - 6:00pm
Parts & Service Hours
Monday - Friday
7:00am - 7:00pm
Saturday
9:00am - 5:00pm

Shop Now for Porsche Merchandise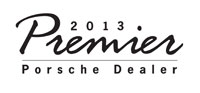 Porsche drivers expect an extremely high level of performance from their vehicles. And, with Park Place Porsche being named the only Porsche Premier Dealer in Texas, our clients can expect equally high performance from their ownership experience. Park Place Porsche has earned this coveted award for
16
consecutive years, reflecting our ongoing focus on delivering excellence in everything we do.
The Porsche Premier Dealer program is dedicated to identifying the top 25 Porsche dealers in North America, and recognizing their dedication to Porsche excellence. As part of this singular group, we know we have to live up to the highest expectations—and we will continue to go above and beyond for all our clients.
Dallas-based Park Place Dealerships has been named one of America's Top Workplaces by Workplace Dynamics. Park Place was ranked #4 nationwide among 872 organizations with more than 1,000 employees that participated in regional top workplaces programs.
The Top Workplaces program accurately reflects the opinions of employees through measurement of engagement, organizational health and employee satisfaction. The survey is utilized year after year by human resource professionals nationwide as the gold standard in internal measurement of organizational health and employee satisfaction.
The survey uses a proprietary set of 22 questions to rank companies. The survey data showed that employees most want to work at companies with high levels of organizational health. Companies that set a clear direction for their future; execute well; and bring real meaning to work are the healthiest.
Park Place Dealerships has been named among the "Top 100 Places to Work" by the Dallas Morning News for the fourth consecutive year and ranked number 4 in the large company category for corporations in Dallas / Fort Worth.
Park Place Dealerships was selected based on an independent survey of Park Place's employees, conducted anonymously by The Dallas Morning News' research partner. The DMN "Top 100 Places to Work" list was compiled from a survey sent to Park Place's employees soliciting their opinions on six areas of the workplace including direction, execution, pay and benefits, career opportunities, workplace conditions and managers. In order to qualify, at least 35-percent of a company's employees must respond to the survey. This year, the firm surveyed 276 companies and analyzed responses from 72, 285 employees.

Feedback from Park Place's employees included comments such as: "My job always keeps me on my toes, and I love that;" and "Park Place actually does everything they say they're going to do and more;" and "Park Place Dealerships has the confidence in me to do my job well and do what's right for our clients."