Maps and Directions
Sales Hours
Monday - Friday
8:30am - 8:00pm
Saturday
9:00am - 6:00pm
Parts & Service Hours
Monday - Friday
7:00am - 7:00pm
Saturday
9:00am - 5:00pm

Shop Now for Porsche Merchandise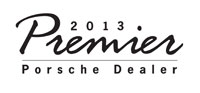 Porsche Panamera - A Touring Masterpiece
Park Place Porsche Dallas
Every Porsche excels at it's intended function, but it wasn't until the Porsche Panamera arrived that you could say there was a Porsche that obtained the necessary attributes to be considered a "Touring car." To take that title, Porsche knew they had to develop something special,and they did just that in the Panamera. The performance you've come to expect from Porsche, coupled with a four-door, four full-size seated platform creates what is said to be the quintessential touring Porsche.The
2013 Porsche Panamera
provides the best of both worlds for drivers who want sedan accessibility and Porsche performance.
Bringing The Ultimate Touring Concept To Life: Porsche Panamera
The Porsche Panamera Experience:
The Porsche Panamera is driving forward the idea of a touring vehiclethat feels as comfortable on the highway as the track. Keeping thepassionate and dramatic proportions of the iconic Porsche style, thislong aggressive touring car is evocative of primal instinct and purepleasure in the driving experience. With various distinct trim levelsavailable in the 2013 Porsche Panamera model line, you are sure to findthe perfect fit in a Panamera for your driving style and performancedesires.
Meet the 2013 Porsche Panamera Line-up:
300 horsepower
0-60 mph: 6.0 seconds
300 horsepower
0-60 mph: 5.8 seconds
400 horsepower
0-60 mph: 5.2 seconds
400 horsepower
0-60 mph: 4.8 seconds
380 horsepower
0-60 mph: 5.7 seconds
430 horsepower
0-60 mph: 4.3 seconds
500 horsepower
0-60 mph: 4.0 seconds
550 horsepower
0-60 mph: 3.6 seconds